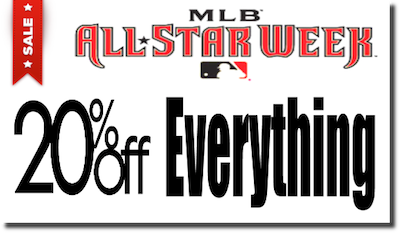 During the entire 2012 MLB All-Star break week, UBTG is giving your pocket book a break! Everything in our online store, including Ultimate Baseball The Game, is being offered at 20% off! Take advantage now, and become a proud owner of the dream game of dream team simulation!
Remember, this means 20% off everything in our online store… which includes our Official UBTG Player Register, player card expansion sets, and even our premium Pennant Chase and Grand Slam packages!
All you need to do is enter the following code in the "coupon" field during checkout to redeem your discount:

ALLSTAR20PERCENT

This offer ends on July 16, 2012 at midnight (EDT). Take advantage now while supplies last. It's an incredible deal!

[prima_products category="featured-products" number="6″ orderby="rand" image_width="225″ image_height="180″ sale_icon="no" name="alwaysshow" name_bg="black" name_color="white" slider="3″ slider_auto="yes"]
Filed under News, Promotions, UBTG
Tags: 2012 MLB All-Star Break, Grand Slam Package, Pennant Chase Package, Player Card Expansion Sets, UBTG Player Register, Ultimate Baseball The Game